It had been raining and pretty cold for weeks. However, the sun decided to come out one Wednesday afternoon, which just happened to be a minimum day at school. The girls and I were preparing a picnic for the park and I noticed a little bird just outside the sliding door. It was staring at us in the kitchen. Walking over to the glass the bird hopped closer, like he was trying to get a closer look - at me.

I alerted Sable to the bird and she went right up next to the glass. The little bird hopped closer, to get a better look - at her. Then it hopped away. We both noticed that it was hopping, not flying. I said, "That's not very bird-like, hopping around, not flying." Sable asked, "Do you think something is wrong with it?" I didn't answer and together we observed.

The sweet little bird hopped over to the fence, into a bush and hopped its way up the fence. Then, I really did think something was wrong, because it was exerting a lot of effort NOT to fly. Then I noticed something else.

A squirrel was resting peacefully in a sun spot on the fence. It was hard to see at first, but he was sitting there, eyes closed, arms tucked under his chin, taking a nap and basking in the first sun of our long wet winter. Sable said, "Get your camera Mom!" So, I did: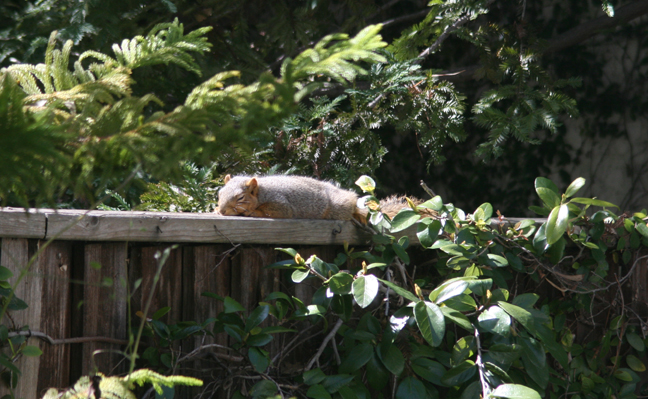 I had to take another one because he opened his eyes and it proved that he was alive: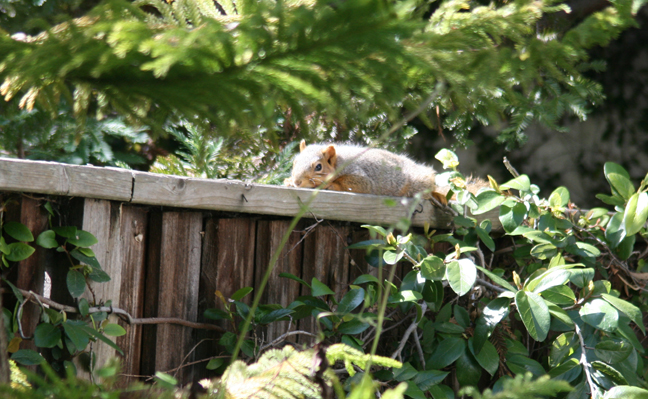 As for the bird. He was fine! I think he was just like, "Hey, check THIS out!" His plan worked. Thanks sweet little bird!
____________________________
Chiara, Did you expect me to say the bird died? ;) I can do sweet and cute. But don't expect rainbows, that's asking WAY too much.